Interview mit Robert A. Sedlák
CEO S&P Consulting | Guest Professor at the ECNU, Shanghai
"Far-reaching change requires cooperation at eye level"
Since August 2018, SEDLÁK&PARTNER has been accompanying the Duisburger Versorgungs- und Verkehrsgesellschaft mbH (DVV) in the future program DVVision. Within the framework of DVVision, employees from all companies of the DVV Group, departments, and hierarchical levels work together to identify challenges, developments, and trends at an early stage and to adapt to them in the best possible way.
In the interview, Guest Prof. Robert A. Sedlák talks from the perspective of a process consultant about the far-reaching change process that the DVV Group has started with DVVision in recent years.
The interview has already been published beforehand on the DVV Group's website.
Professor Sedlák, how did you perceive the DVV Group when you accepted the mandate for the transformation process in 2018?
The DVV Group was strongly conditioned by previous restructuring programs to reduce costs. In the meantime, the Group has very successfully positioned itself so that it is on a solid footing as far as the financial perspective is concerned. The structures and routines that had been in place for decades were strongly influenced by the monopoly position that had been created historically. A key question we faced was: How does the Group intend to exploit the identified opportunities for new business in order to at least offset, if not overcompensate for, future revenue losses from its core business?
Most transformation and change processes do not produce the desired results or even fail. In your experience, what is crucial in a transformation process?
In the first step, in the initial situation, it is important to determine what kind of change is involved. DVVision has a different objective and logic than the already successfully completed restructuring programs. We would describe DVVision as a third-order change. This type of change is fundamentally different in its logic from a restructuring program, where the objective is to sustainably rid the company of "bad costs".
"While restructuring and reorganization are about cutting out what is not value-adding, in a third-order change we focus on how future value creation will take place and what conditions need to be created for this to happen."
Third-order change is about using strategic positioning and appropriate structures to keep the company competitive in the market and generate new business in the medium and long term. Restructuring and reorganization are about cutting out non-value-adding products, plants, processes, structures, etc. In a third-order change, we focus on the question of how future value creation will take place and what conditions need to be put in place for this. We know that cost-cutting is not a business model in the long term and is not sufficient for expanding a company's competitiveness. For such a change process to succeed, certain prerequisites must be met.
What requirements do you see here?
If the company has recognized that continuing on its present path will sooner or later lead the company into a predicament, a third-order change is called for. For such far-reaching changes, a careful analysis of an organization's past experience with such "impositions" is required. In the initial situation, therefore, the reason for the change, i.e., the need to be turned around, must be communicated in such a comprehensible way that the organization accepts it and is prepared to go along the way.
What makes you so sure that DVVision will bring about the necessary change?
The responsibility of DVVision has been declared a matter for the top management – an important prerequisite for the success of a far-reaching transformation process. The executive board, the management, and the employee representatives see the necessity of the program and support DVVision credibly and sustainably. DVVision is designed in such a way that basically all employees can be involved. The necessary transparency about the "what", "how", and "when" in the DVVision process is ensured by appropriate change communication.
"DVVision's responsibility was declared a matter for the top management – an important prerequisite for the success of a far-reaching transformation process."
You write in your publications that organizations cannot be changed from the outside. Can you explain that in more detail and describe what that means for DVVision?
According to the understanding of systems theory, we understand organizations as complex social systems. In this sense, organizations do not consist of their individual elements, such as departments and people, but of the relationship of these elements to each other: how the respective departments within the organization work and communicate with each other in order to achieve their goals and the overall goal of the organization – and thus to secure its existence.
In interacting with their environments, organizations perceive only what seems relevant to self-preservation and service delivery. This is necessary to generate stability and to maintain it even in turbulent times – if the organization were to react to every stimulus, to every event from the environment, it would no longer be able to act. Thus, a selection takes place as to which impulses are perceived and processed.
This structural operationally closed process can only be influenced from the outside to a limited extent. For the DVVision process this means that we as consultants can only indirectly influence this process from the outside – only the actors of the organization can change it. For this reason, we provide tailor-made impulses that make a difference compared to today. The DVV employees involved in the process then use these to implement the necessary changes.
"If the organization were to react to every stimulus, to every event from the environment, it would no longer be capable of acting. Thus, there is a selection process taking place regarding which impulses are perceived and processed. "
What does this mean for DVVision in concrete terms?
Basically, it is necessary to develop an attitude that everything we experience and observe in organizations is there for a good reason and that this reason must first be understood. It is necessary to accept that change must always be wanted and implemented from within.
Furthermore, it requires close cooperation between executives, key players, and employees of an organization in order to communicate and act at eye level.
Working groups, which are staffed by DVV representatives and external consultants, are called consulting systems. In these consulting systems, change is initiated by competently and controversially deliberating on issues, processing them, and bringing them to a decision. This is done from a professional and sociological perspective and in the appropriate chronological sequence. If these decisions are then implemented internally by organizational members, the actual change takes place. In order to bring about sustainability, consulting systems are necessary that also include management, so that critical issues and those that may have been taboo in the past can be openly discussed and consulted at eye level.
We have successfully implemented such consultation systems in the DVV Group and we can observe that change is taking place there. Thus, a third-order change becomes possible.
"It is important to accept that change must always be wanted and implemented from within."
When you talk about third-order change, what do you mean?
We see three different logics when it comes to change: First-order change is naturally inherent in an organization. Without any intervention, organizations change whether they want to or not. In the fast-moving times in which we live, these evolutionary change processes are usually not sufficient to keep organizations fit for the future.
The result is imbalances that often force owners and management to undertake radical restructuring and turnarounds. We call these change processes second-order changes. Something is cut away, for example by cutting costs, without strategically realigning the organization and implementing the appropriate organizational structure with a corresponding management system.
Whenever, however, an organization sets out to address fundamental changes in its environment, we speak of third-order change. Here, the goal is to initiate a profound change process, using the existing system intelligence, in order to maintain or expand competitiveness. This mode includes a constant reflection of the ongoing change process and ensures that the change is modified if it can be observed that the decided and imposed interventions do not achieve the effect that was intended.
What does that mean in relation to the DVV Group?
Following the implemented restructuring programs, second-order change, the DVV Group has embarked on third-order change in order to develop into a foresighted organization with DVVision. This implies that, among other things, the process architecture for DVVision, i.e. the way in which change takes place and the associated step sequences, as well as the structure for program control, has been regularly reflected upon and permanently developed over the past months – without any need for justification. In this way, this process is kept adaptive, and necessary structural and procedural changes can be consistently addressed.

Within the framework of DVVision, the DVV Group works with the participation of all departments and hierarchical levels to identify challenges, developments, and trends at an early stage and to adapt to them in the best possible way.
DVVision in video – a part of the digital annual report of the DVV Group:
Further interviews on the process: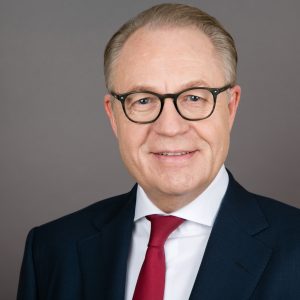 Robert A. Sedlák is Senior Executive Consultant, Chairman and CEO at S&P Consulting International Consulting. Since 1987, he has been working as an independent management consultant for DAX-listed companies as well as for medium-sized businesses. One of his consulting focuses is the topic of "Foresighted Self-Renewal". This method, developed with leading organizational scientists of the Newer Systems Theory, enables organizations to recognize signals for change early on and to use them specifically for a self-renewal process. In addition, it deals intensively with the question of how organizational and personal learning processes can be optimally interlinked within the framework of change processes.
Since 2013, Robert A. Sedlák has been a guest professor at the East China Normal University (ECNU) Shanghai and, for over 25 years, has been a member of the Bundesverband Deutscher Unternehmensberater BDU e.V. (Federal Association of German Management Consultants). He is also a CMC certified management consultant.
Learn more about our concepts for developing agile and foresighted organizations on the service descriptions linked below or contact us directly to request more information.