The Hamburg Chamber of Commerce invited to the "3. Industry Forum Consulting" on November 6th, 2015. The topic of the event was the digitalization in the consulting business.
Addressing the topic of "Blended working and social media as a key success factor in the daily practice of management consulting", Guest Prof. Robert A. Sedlák spoke about the already existing change in the acquisition and implementation of consulting projects through the use of modern media- and web-based tools. In his talk, he emphasized the changing market requirements and the associated challenges for the consulting business. Customers become more demanding, while having less time for face-to-face events (e.g. workshops), in particular in international projects. New, innovative ways are required, especially for the generation of project-relevant data and information. The consulting model "Blended Working" that was developed by S&P Consulting interlinks digital tools with the planning and implementation of face-to-face events in an intelligent way. Against the background of the constantly and rapidly changing customer markets the question is no longer whether a consulting company should take part in the digitalization. It is rather a necessity that allows a future-oriented positioning in the market.
Further speakers and guest speakers at the "3. Industry Forum Consulting" were:
Prof. Dr. Tilo Böhmann (Professor for IT Management and Consulting, University of Hamburg)
Wilhelm Alms (Chairman, Hamburger Consulting Club e.V.)
Thomas Reher (Chairman of the Executive Board, PPI AG Informationstechnologie)
Sabine Kalisch (CFO, Heinrich Bauer Verlag KG)
Prof. Dr. Henrik Meyer-Hoeven (CEO, Pawlik Consultants GmbH, Professor for Strategy and Leadership, HSBA)
Christoph Hüning (Partner at SCHICKLER Unternehmensberatung GmbH)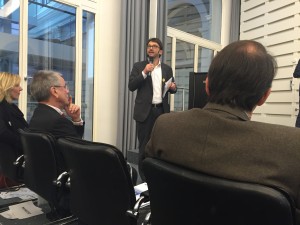 The event was hosted by Dr. Nikolaus Förster (Editor-in-Chief and CEO, Impulse Medien GmbH).
The "3. Industry Forum Consulting" concluded with the award of the Hamburg Consulting Prize 2015 initiated by the Hamburg Consulting Club e.V. The prize was handed over by Christina Jagdmann (Vice President of the Hamburg Chamber of Commerce).
Interesting links