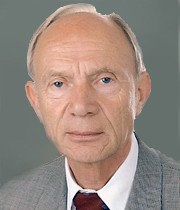 We are happy to announce, that as of September 01 2012, Prof. Dr. Eng. Heinrich E. Martin has joined our team as a Senior Partner.
Prof. Martin is a graduate mechanical engineer (TH Hannover) and graduate manufacturing engineer (TU Berlin) and was awarded his doctorate in the field of "Internal Logistics".
As a faculty member of the Hamburg University of Applied Sciences' Engineering and Production Department, he covers the fields of transport and warehousing systems, internal logistics as well as material flow and factory planning.
In addition, Prof. Martin has collected years of practical experience in executive positions throughout the economy, amongst others, a renowned chemical corporation, a leading company in the metal-recycling industry as well as in industrial consulting with a focus on the areas of manufacturing and storage planning. His advanced education, for example with the renowned association for labor organization, business organization and company development (REFA), has deepened his expertise.
Moreover, he has distinguished himself as an author of a user guide for internal logistics and several publications concerning transport and storage logistics as well as the system and implementation planning of a business expansion.
At S&P Consulting, Prof. Martin will be contributing many new consulting topics to our department for "Consulting and Qualification", which include: planning and optimization of storage, commissioning and transport systems, as well as factory planning, relocation of production facilities and layout planning. Further core consulting activities are structure and process analyses as well as profitability analyses. With this expertise, he will be supporting S&P Consulting during future projects as he accompanies and advises customers on-site.
As an esteemed, experienced expert who is admired for his practical, realizable and economical planning, we are extremely pleased that Professor Martin has joined us as a Senior Partner.
We wish him great success for all his new responsibilities at SEDÁK & PARTNER.